Let's Go Taxi
Wheelchair accessible taxi service in Kyoto
Let's Go Taxi is the wheelchair accessible taxi owned and operated by Akio Nakata. Based in Kyoto, one of the most popular tourist city of Japan, Let's Go taxi offers a secure and reliable transportation for hadicapped travelers from all over the world to see around the city. The driver who is also a licensed tour guide will assist you throughout the day and help you make the most of your sightseeing..
Who qualifies for the service
Registered in a different category than the ordinary taxi, Let's Go taxi is only allowed to have mentally or physically challenged and eldery customers who could not use other public transportation services on their own. It's not defined by wheelchair usage but the degree of assistance they need.
Vehicle
One car, Daihatsu Atray (660cc) equipped with the wheelchair ramp is available. Despite its small size, it carriies three people other than a driver: one passenger in wheelchair (size limit is shown below) and other two in front and rear seats.
| | |
| --- | --- |
| | |
| | The wheelchair shown in the picture is available for your temporary use. |
| | |
| --- | --- |
| | Maximum size of wheelchair for the space of the vehicle. |
Fare
First 2000 meters or part thereof:
620 yen (about 7.5 U.S dollars, 5.5 euros)
Each additional 400 meters or part thereof:
80 yen
Below 10 kilometers per hour, each 145 seconds:
80 yen
By showing your disability certificate, you will receive 10% discount from the final fare.

I stop the meter at each tourist site and accompany you in the site as a tour guide, and then start the meter from zero to the next site. By doing this, I ask you to pay the parking fee which is about 1000 yen per site.
Most of the major tourist sites in Kyoto city such as temples, shrines, castle and palace are located within distance for the fare around 1,000 yen and up to 2,000 yen. If you visit three places with four times ride, the total amount of cost including parking fees would be somewhere between 10,000 yen (120 U.S dollars, 90 euros) and 15,000 yen.
I will pick you up at the Kyoto station or the hotel you stay. I can wait you at the station platform.
Most temples and shrines charge admission fee which is around 500 yen. Some of them have free or half admission when a visitor shows a card to prove disability.
About me

Akio Nakata is the manager and driver of Let's Go Taxi.
I started the Let's Go taxi service in February 2011 at age 36. Previously, I worked at a senior care facility for one year and drove taxi at a taxi company for two years. Also I have had more than 60 days of conducting sightseeing tours for foreign guests in Kyoto, Osaka and Nara cities. I am licensed tour guide. I am happy if I make use of these careers to provide you a high quality wheelchair tour.
Reservation
Please use the form below to make a reservation or any inqury about the service. The early reservation is recommended so that I can plan and sudjest the best itinerary for you.
Tour example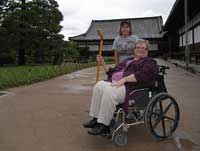 One castle and two temples

Hotel to the Nijojo Castle
to the Kiyomizu Temple
Lunch at the Chishaku-in Temple's restaurant (Buddhist vegetarian dish)
Sanju-sangendo Temple, then back to the hotel
It was about six hour-long tour and the fare and parking fees were 4500 yen in total (10 percent reduction was applied)